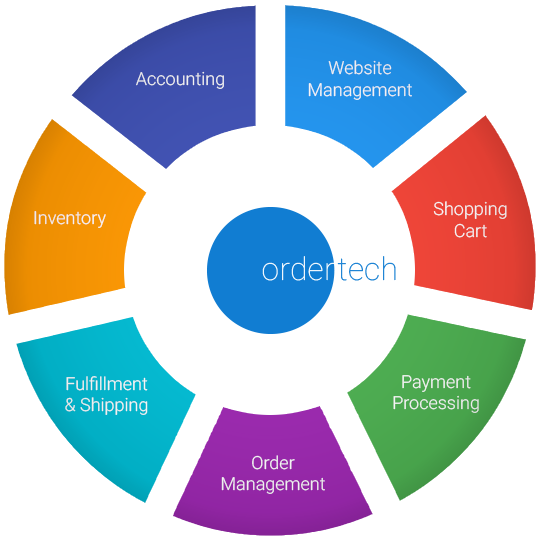 Your end-to-end business platform
Whether you own one or several warehouses, one or hundreds of stores, OrderTech automates your operations, increase sales and productivity. With the OrderTech platform you can handle all your business operations including warehouse management, order management, fulfillment, shipping, inventory control, accounting, business intelligence as well as your online presence. This single-vendor approach saves you money and guarantees that all modules are integrated, communicate well with each other, and are always compatible - even after software upgrades.
Warehouse management
Sell more and reduce operations cost. With OrderTech Warehouse Management, you efficiently control the cost, movement, and storage of materials in a warehouse and process the associated transactions, including shipping, receiving, putaway, and picking all while improving your warehouse operations and minimizing the cost of operations. Your stock is optimized in real-time, whether you have a single warehouse or multiple levels of warehouses, based on real-time information about the status of bin utilization. OrderTech Warehouse Management is integrated with shipping systems and allows you to efficiently handle the receipt, storage, and movement of goods to intermediate storage locations or to a final customer and enables you to replenish your inventory optimally.
With OrderTech Warehouse Management, you can efficiently manage warehouses, partners and channels inventory with a centralized state-of-the-art inventory management software across your physical warehouses, points of sale, online stores and marketplaces (such as Amazon and Ebay). Some features include:
Multiple warehouses.
Multiple bin locations.
Integrated barcodes printing and reading.
Integrated with pack, pick and ship management software.
Automatic inventory planning and optimization, multiple automatic reordering algorithms, dynamic readjustments.
Reports (tables, charts, PDF, Excel, &) and business intelligence.
Bill of materials (create and manage kits and bundles).
Order management & sales order processing
OrderTech Order Management automates and manages the end-to-end order lifecycle. Among many others things, OrderTech Order Management fulfills and optimizes your orders, even from multiple inventory sources, giving you instant inventory visibility. Easily turn quotes to orders and process orders while automatically checking stock availability and managing returns.
Business intelligence for your sales
Sales analysis
OrderTech Sales Analysis optimizes your business. You get an accurate view of the business in real time as well as various reports showing the trends that occur in your company's sales over time. This allows you to identify market opportunities and areas where you could increase volume. For example, a customer may show a history of increased sales during a given period, thus providing you the opportunity to increase your business during these peak periods. Sales analysis can also reveal the need to optimize product demand, the long-term decline, or increase in sales for a product or merchandise class, the evidence of stronger competition in some sectors, the decline or increase in market demand, repeat versus new business sales, sales by geo-locations, and much more.
Sales reports include summary sales reports by merchandise class, customer ranking reports, customer/product reports (who is buying what), customers' performance reports (which of my customers are the most profitable and which are the least?), monthly history by customer, item ranking reports, top selling items (by profit or revenue), sales distribution (where are your sales by merchandise class or by warehouse), items sales analysis, sales history, and consumption report (what you has been selling well and needs to be reordered).
Purchase order processing
OrderTech Purchase Order Processing helps companies like yours buy goods and services efficiently and economically all while improving visibility by providing real-time information regarding company spending and vendor performance. It helps you manage product purchases by vendor, inventory items reception, cost management (landing cost including inbound freight or straight cost), lots, and serial numbers.
Accounting
The OrderTech Accounting Module solves all your accounting problems including general ledger, accounts payable, accounts receivable, financial reports, and more.
With OrderTech, all your data are automatically updated. For example, as purchase orders and sales orders are processed the accounting system is automatically updated. As expenses are paid and accounts receivable are accumulated the general ledger is updated. Anytime during the month income statements and balance sheets can be produced with month-to-date information. No more waiting to send all your data to an accountant to produce your financials. Because the OrderTech system is designed so that all its modules talk to each other, your accounting is automatically up-to-date.
Project management
Project Management ties together sales orders and multiple purchase orders, helping you assign tasks to employees to get the sales orders or purchase orders completed. For example, when a customer sends you a purchase order, the Project Management Module will help you create a quote for a product, enter multiple purchase orders to multiple vendors, and decide from whom you are going to buy as well as manage this entire process and the work that needs to be done (bill of materials of any internal work) by assigning tasks to execute on the sales order.
Payroll management
OrderTech Payroll Management is a full solution for managing and processing payroll including salaries, wages, bonuses, deductions, and withholdings.
Make Better and Faster Decisions
Business Intelligence
Using OrderTech business intelligence and reporting module, you can get quick answers to your questions through self-service reports and dashboards while accessing in all aspects of your business, from accounting, online store, inventory, customers, etc.. OrderTech Business Intelligence helps organizations make faster decisions by bringing timely, actionable data inside your business applications and business processes through a state of the art reporting and analytics platform.
Online Presence
Whether you are creating an online store, a corporate website, or a blog, with OrderTech Content Management you can create and manage website content with ease, even if you have very little knowledge of web programming and markup languages. This module provides website authoring, collaboration, and administrative tools designed to manage website content. In addition, OrderTech Ecommerce enables multi-channel commerce from a single platform and covers all aspects of online sales including easy website content management, a simple means of adding and updating products, product search, real-time inventory, shopping cart, online payment processing, quote requests, automatic shipping cost and tax calculation, shipping integration with (UPS, FedEx, USPS, etc.), integration with third-party channels like Amazon and eBay, return merchandise processing, shipment tracking, and online customer accounts. In addition, OrderTech Ecommerce links up with other modules including inventory management, shipping management, customer relationship management, and accounting to provide a single real-time business management solution.