Multichannel Online Store
Fully Automated and Integrated with all your Business Processes
Sell More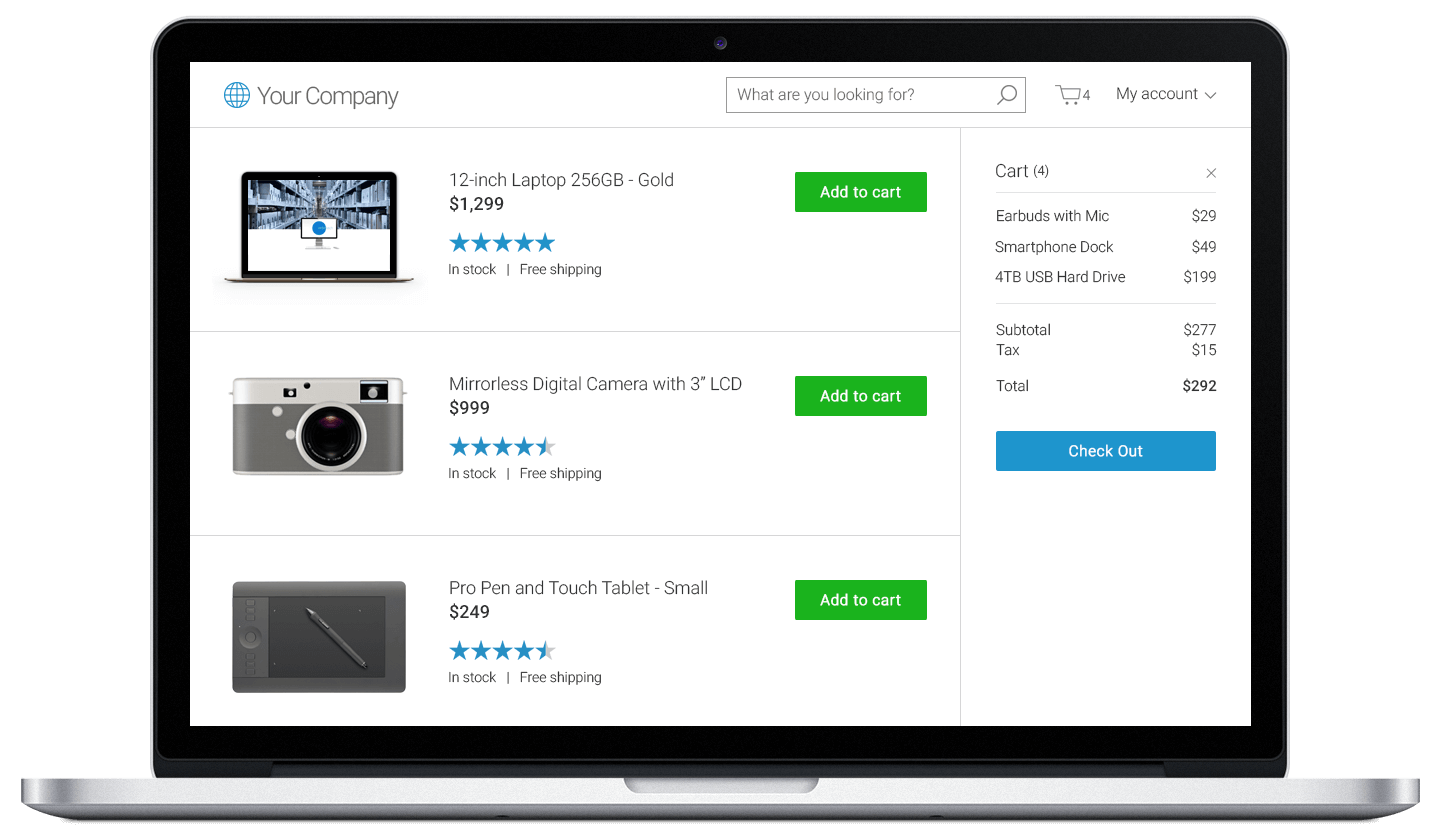 OrderTech covers everything.
One platform, one vendor. All your business operations.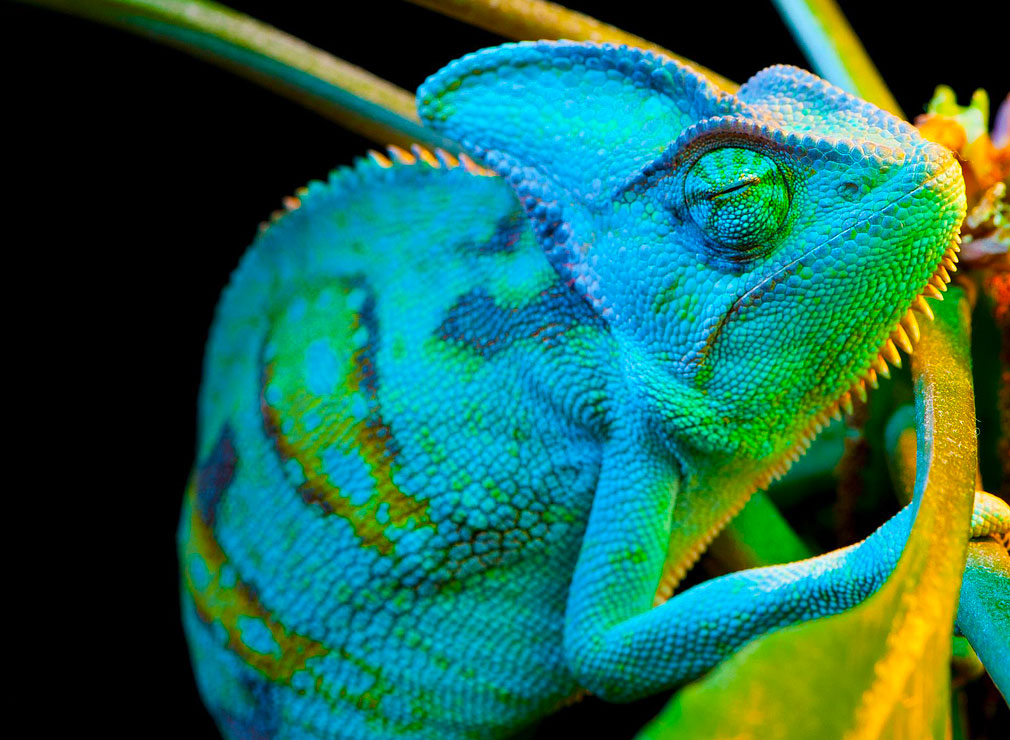 With the OrderTech platform you can handle all your business operations including online store, multi-channel management, accounting, warehouse management, order management, fulfillment and shipping, inventory control, and business intelligence. This fully integrated single vendor approach allows you to make better and faster decision based on real-time visibility into your business, guarantees that all modules are integrated, communicate well with each other, and are always compatible — even after software upgrades.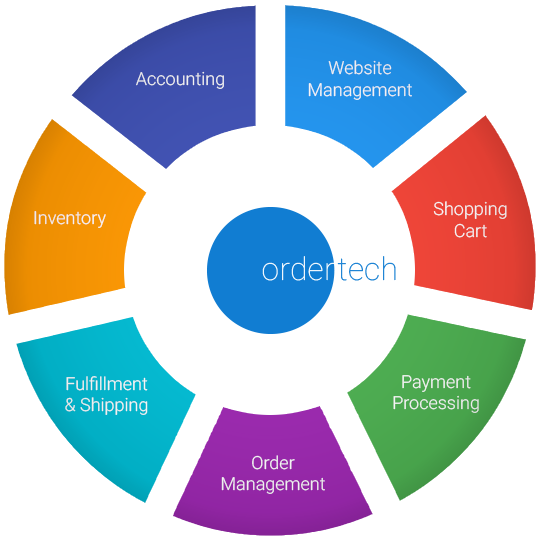 Fully Automated
End-to-end ecommerce
OrderTech Ecommerce enables multi-channel ecommerce from a single platform and covers all aspects of online sales including easy website content management, a simple means of adding and updating products, product search, real-time inventory, shopping cart, online payment processing, quote requests, automatic shipping cost and tax calculation, shipping integration with (UPS, FedEx, USPS, etc.), integration with third-party channels like Amazon and eBay, return merchandise processing, shipment tracking, and online customer accounts. In addition, OrderTech Ecommerce links up with other modules including inventory management, shipping management, customer relationship management, and accounting to provide a single real-time business management solution.
Manage multiple online stores, corporate websites, Business-to-Consumer or Business-to-Business sites, or blogs, on a single platform fully integrated automated systems covering online shopping cart and online payments, web content management, third party channels sales, ecommerce, orders, quotes, financials, customer relations management, inventory, shipping, fulfillment, and more.
Sell worldwide and run your sites on all devices, desktops, laptops, tablets and smartphones. With OrderTech Content Management system you can create and manage website content with ease, even if you have very little knowledge of web programming and markup languages. This module provides website authoring and administrative tools designed to manage websites content.
Why full integration?
Unique features only possible with a fully integrated approach
OrderTech fully integrated approach saves you time, eliminates duplication and keeps data consistent between your online and backend operations (not possible with a multi-vendor approach):
No manual entries between modules and functionalities.
Customers and orders information is always consistent and automatically up to date.
Data is centralized with no duplication and accessible everywhere. For example, customers information is shared between your online store and your backend operations; and you have access to all customers orders history whether taken online and over the phone.
Allow your business customers to purchase online with the same custom pricing and payment terms as over the phone.
OrderTech fully integrated approach gives you real-time visibility into your business allowing you to make better and faster decisions.
The accounting system for all your business operations is always up-to-date in real-time.
Real-time visibility into: profit margins, shipping costs, cost of goods sold, profitability, how shipping impacts the bottom line, how promotions impact the bottom line, whether promotions increase sales, sales mix (amazon, web site, etc.), profit by channel, inventory valuation.
All in one Platform
B2C and B2B
With OrderTech eCommerce, you can manage multiple stores and sites, whether B2B or B2C in one platform while maintaining separate content, products and pricing. OrderTech streamlines your operations while expanding your revenues opportunities. With OrderTech B2B site you can control privacy of your content to your pre-approved customers, offer special pricing groups to specific customers. In addition, through the private customers login, your can offer your customers to add items in a shopping cart, to request quotes, to pay directly online or through purchase orders for pre-selected customers. All this while streamlining operations.
Frictionless Online Store
State-of-the-Art Shopping Cart
OrderTech provides a state-of-the-art secure shopping cart for your ecommerce website fully integrated with your OrderTech business management software such as shipping, orders processing, fulfillment, inventory management, returns management, email marketing, and accounting among other modules.
Secure. End-to-end encryption of website traffic and payment processing using SSL certificates.
Safely accept credit cards and PayPal. Customers can pay using all major credit cards such as Visa, MasterCard, American Express, Discover as well as PayPal. For increased security of customers account and payment information, OrderTech stores tokens instead of customers credit cards information and uses a highly secure third party system to authorize payments based on those tokens thus eliminating the risk associated with storing credit cards information.
Customers Accounts. Repeat customers can create accounts for storing shipping, billing and payment information, access orders, request returns and track shipping.
Integrated shipping rates information. OrderTech integrated with UPS, USPS, FedEx and DHL with door-to-door tracking.
Automatic taxes computation.
Coupons and special offers support.
Drop Shipping. Sell items you stock as well as items fulfilled and shipped directly by third-party partners.
RMA and refunds. Automate the return process. Customers can create new return requests and view status of prior return requests. Return labels are automatically generated and refund are processed when the returned items are received.
Cross-selling and up-selling. Increase your sales with your existing customers. Sell additional related products to your customers by showing related and suggested products. Easily manage related and suggested products
Abandoned Cart Recovery. Automatically remind by email customers who have abandoned their cart to purchase your products or offer promotions to complete their purchases.
OrderTech is your Partner
Flat Pricing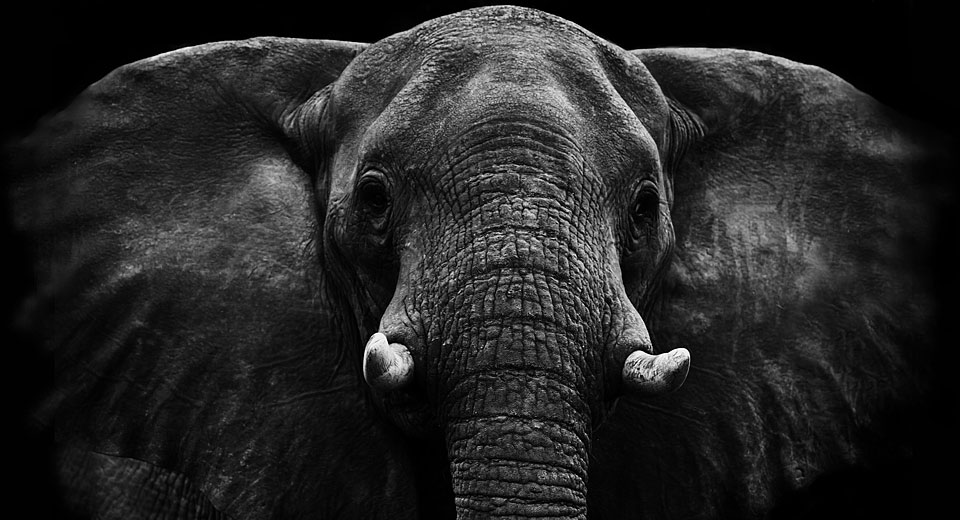 OrderTech provides its solutions for a flat fee regardless of your sales volume. Grow your sales and enjoy the fruits of your work. We are your partner and proud of your success.
Online, Over-the-Phone and in-Person
One System, Sell Everywhere
Sell online, over-the-phone or at a physical point of sale using a single integrated system. OrderTech offers you the ability to integrate your physical store with your online e-commerce store. OrderTech will automatically synchronize with your online store so that all products are consistent and all inventory levels are always up-to-date. If you have a physical store and want to build an online store to grow your sales, OrderTech powers both your offline and online stores, orders, shipping, fulfillment and accounting under one centralized system.
Increase Efficiency and Lower Costs
Sell and Ship Worldwide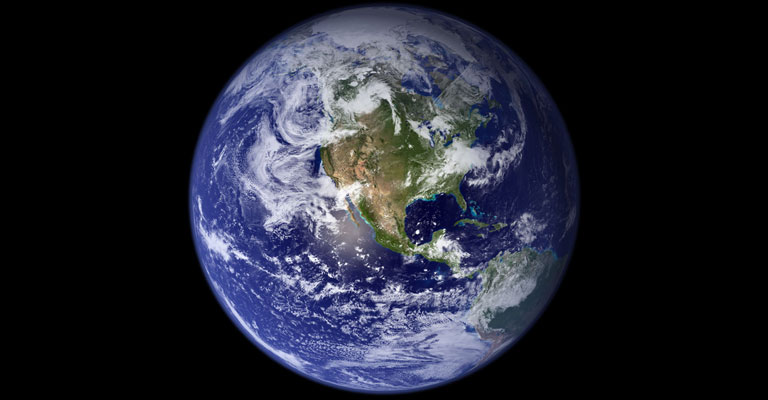 OrderTech eCommerce you can sell and ship worldwide. OrderTech is integrated with the major shipping carriers such as FedEx, DHL, UPS, USPS (among others) and allows you to manage shipping with real-time shipping rates and door-to-door tracking in the USA and internationally. In addition, with OrderTech you can drop ship your orders and fulfill them yourself automatically including shipping label printing and automated package size computation. With OrderTech, you increase your business efficiency while lowering your fulfillment costs.
Increase your sales
Sell on any Device, Anywhere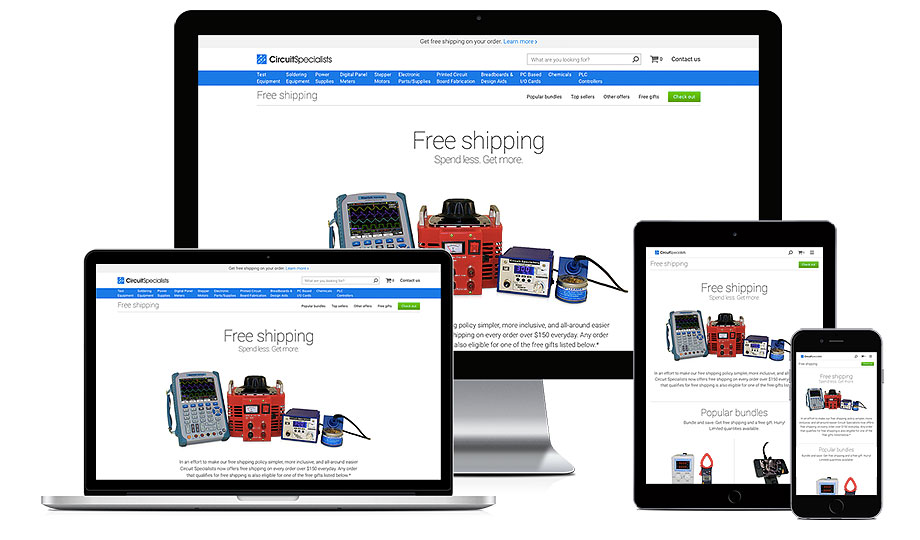 Using responsive design, your OrderTech online store can be used on all various screen sizes and devices such as smartphone, tablets, laptops and desktop computers. In addition, you can sell and ship worldwide. OrderTech is integrated with the major shipping carriers such as FedEx, DHL, UPS, USPS (among others) and allows you to manage shipping with real-time shipping rates and door-to-door tracking in the USA and internationally.
Expand your Reach through Partners
Multichannel
With OrderTech, you can serve your customers via many channels in addition to your own online store. OrderTech eCommerce solution enables online retailers and manufacturers to integrate, manage and optimize their merchandise sales across multiple online channels including Amazon, eBay, Google and Walmart, among others.
Increase your Sales
Email Marketing
With the optional OrderTech email marketing module integrated into OrderTech eCommerce, you can increase your sales keeping in touch with your customers or prospects with your latest promotions and products. Returning customers are invaluable to your online store. It is fully integrated into OrderTech eCommerce and Customers Relationship Management systems eliminating the need to use any additional software and the need to transfer data from one software to another.
Make Better and Faster Decisions
Business Intelligence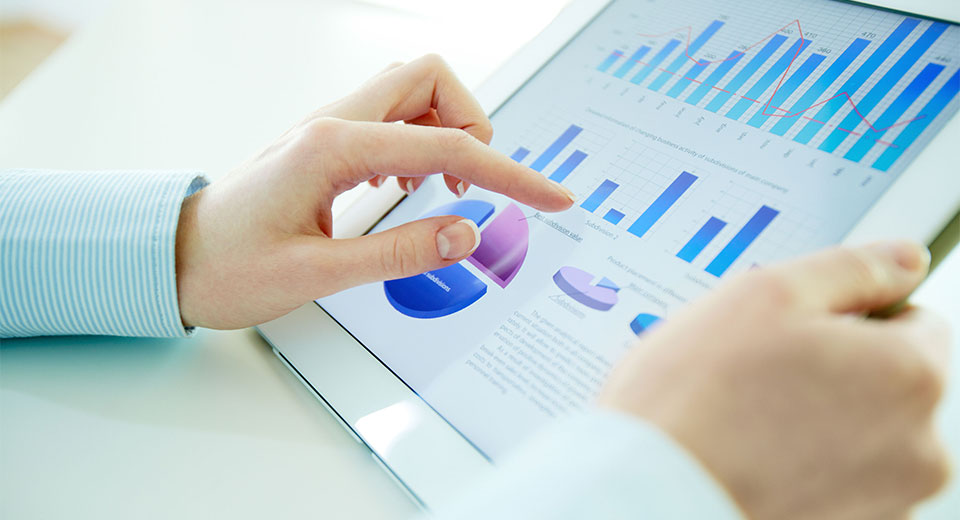 Using OrderTech business intelligence and reporting module, you can get quick answers to your questions through self-service reports and dashboards while accessing in all aspects of your business, from accounting, online store, inventory, customers, etc. OrderTech Business Intelligence helps organizations make faster decisions by bringing timely, actionable data inside your business applications and business processes through a state of the art reporting and analytics platform.
Easily Manage Pages and Products
Content Management System
Integrated in OrderTech eCommerce is a powerful and dependable content management system which eases the flow between design and online sales. The content management system lets you easily manage multiple websites which online store, B2B website, blog or regular website.
State-of-the-art Technologies
Modern Architecture
OrderTech eCommerce platform supports and implements the latest web design technologies, including, HTML5, CSS, JavaScript, jQuery, responsive design, content management, sandbox, among many others.
Partner Channels and Marketplaces